Enable Hosting | Upload Your Website | Default File | Change FTP Password | Troubleshooting
You'll use a FTP program to upload your website files to our hosting servers.
Make sure you've already enabled web hosting for your domain name.
General Settings
We recommend using FileZilla (instructions below) to upload your website to our servers.
If you need to use another FTP program, you'll need the Misk.com FTP Settings.
Step 1 - Download FileZilla
FileZilla is free and works on Windows, Mac, and Linux. It supports SSL FTP (FTPS), which is required to protect your ftp login information and upload files to our servers.
Step 2 - Setup FileZilla
Before you can start uploading files you will need to establish a connection to our server by following the steps below:
Launch FileZilla
Select Site Manager under the File drop-down menu
Click on New Site and give the connection a name by clicking Rename (e.g.: example.com)
Under My Sites, click on the connection you just created
Under Host, enter ftp.misk.com
Under Port, enter 990
Under Protocol select FTP - File Transfer Protocol
Under Encryption select Require implicit FTP over TLS
Under Logon Type select Normal
Under User, enter

Your

Misk.com Username

Under Password, enter

Your FTP Password

 (Different from your Misk.com account password and can be reset via Change FTP Password)
Click on Connect to connect to our server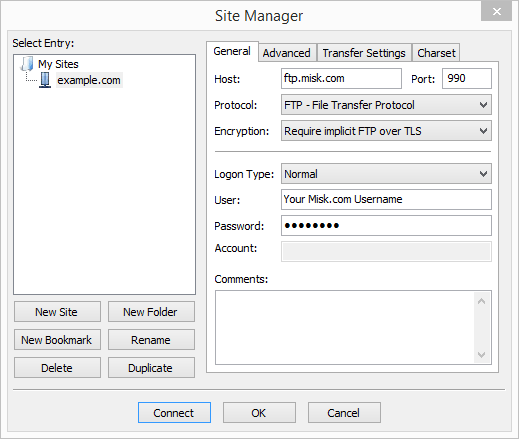 SSL Certificate
The first time you connect to our FTP server, you may be prompted to trust our SSL Certificate. Select Always trust certificate in future sessions at the bottom and click OK.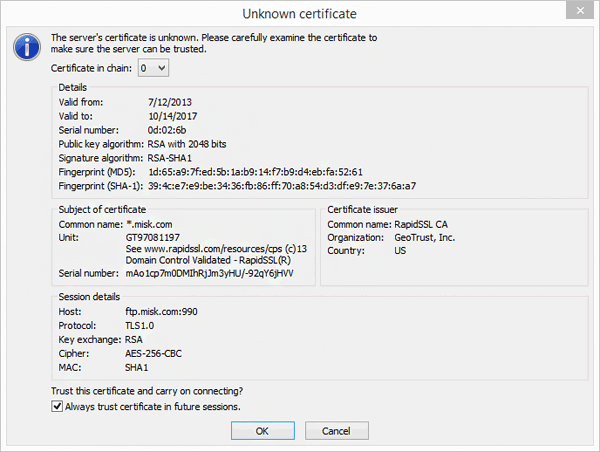 Step 3 - Upload Files
Once connected to the ftp server, the files on the server will be displayed on the right hand side.
On the right hand side (ftp server), double click the folder for your domain name to switch to that directory.
On the left hand side (your computer), locate the folder on your computer that you used to store your website files and drag and drop the files from your computer (left side) to the ftp server (right side).
Be sure to include a default file when uploading your site.
Having trouble uploading your files?
See our Troubleshooting FTP Problems guide.